Art and Culture
Model Hasnain Lehri announces relationship with Lebanese reality TV star Loujain Adada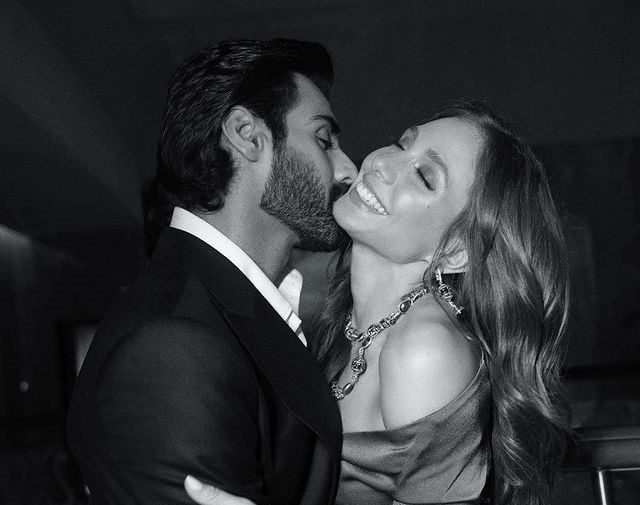 Love is in the air! Amidst the endless news of celebrity divorces, renowned Pakistani model, Hasnain Lehri announced his relationship with Dubai Bling star Loujain Adada.
Taking to Instagram, Lehri shared a stunning and rather intimate photo of himself and Adada in each other's embrace. He also captioned the photo with a heartfelt message for his lady love.
"I thought fairy tales would never come true until I met my princess," the caption read, followed by their initials "H" and "L" written with an infinity symbol.
Adada also replied to the Instagram post in the comments. Reciprocating the sentiments, she said, "My heart, H! Fairytales do come true."
In 2012, Adada tied the knot with Walid Juffali, a late Saudi Arabian business magnate and billionaire. She was reportedly 25 years old and he was 60 at the time. Juffali passed away in 2016 after a long battle with cancer. The supermodel currently has two daughters.
When she was just 14, Adada started her modelling career, immediately landing photoshoot gigs and establishing an impressive portfolio in preparation for a career in the runway business.
At 21, she was given the opportunity to present the music program Energy Spin Magazine on MTV Lebanon. However, after her marriage, the star took a long hiatus from media until her big comeback with Netflix's hit reality TV show, Dubai Bling.
Lehri on the other hand confirmed dating fellow model Sabeeka Imam in 2018. However, the duo parted ways after a year.
Imam shared the news of their breakup in a post. She said, "And so this journey officially comes to an end. It has been a long time since we both realised that our paths are destined to be separate. After multiple attempts and much consideration, we have called it quits."
Lehri is the first supermodel in Pakistan to bag five Lux Style Awards and has a record for receiving awards for four consecutive years. In 2017, Lehri was also mentioned in the Top 100 Sexiest Asian Men list made by the Eastern Eye.
Have something to add to the story? Share it in the comments below.