The coveted LUX Style Awards (LSAs) rolled out nominations for its 21st edition unlike they usually do – two days before the event with little hype to follow. As soon as the names dropped, viewers scurried to condemn what they felt was an injustice to other artists and women of Pakistan. Feroze Khan, who recently came under fire for alleged abuse against his ex-wife, Aliza Sultan, who offered proof of domestic violence on the internet, had been nominated in the Best TV Actor – Viewers' Choice category for his drama Khuda Aur Mohabbat.
Many commented under the nominations announced in a post shared on all LSA social media handles. Activist Usama Khilji wrote, "Lux, do the right thing and stop glorifying abusers. Stand with survivors of abuse." Influencer Naiha J. Eiman lashed out, "Stop backing abusers and harassers and have some shame for God's sake." She added, "Expected better from you this time around but so disappointed and disgusted."
Celebrated vlogger Bilal Hassan was among the first to ask, "Can you explain why a domestic abuser is one of your nominees? This is pretty disappointing a disrespectful to all the women of this country." While Soul Sisters Pakistan founder Kanwal Ahmed lamented, "Terrible of you Lux Style Awards to nominate and celebrate abusers and harassers. That too as a brand that capitalizes on selling soaps to women! Shame on you."
A bunch of Instagram users commented in a similar vein. "You could have set the bar here, you could have shown some dignity, some courage perhaps. In a country where Sarah's and Noor's murderers are yet to be served justice for domestic abuse – you decide to give the most famous (read problematic) actor of his time a nomination. Further legitimizing that whatever happened is in between them," wrote blogger Marium Hosein.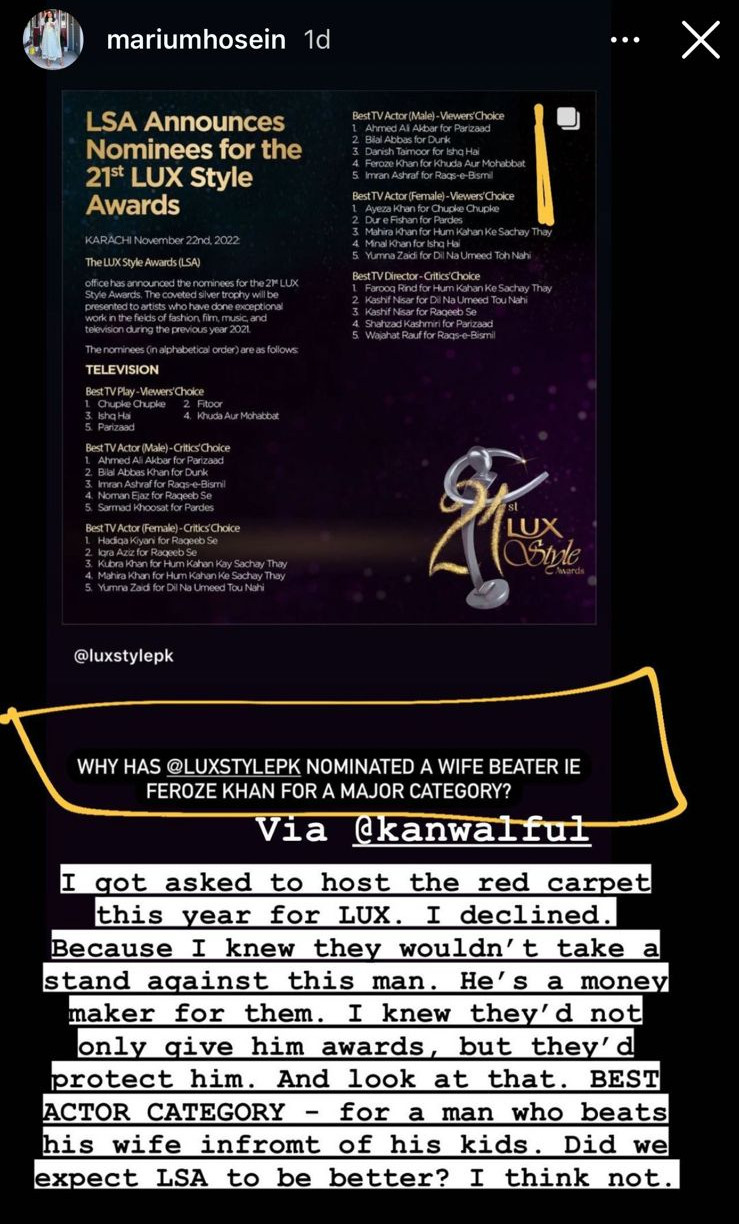 Hosein also took to her Instagram Stories to reveal that she had been asked to host the red carpet at this year's LSA. However, she declined. "I knew they wouldn't take a stand against this man," she wrote. "He's a money maker for them, I knew they'd not only give him awards but they'd protect him," alleged the user. "And look at that, best actor category – for a man who beats his wife in front of his kids. Did we expect LSA to be better? I think not."
LSA responds
It seemed the complaints were falling on deaf ears until yesterday, when the brand put out an explanation for its nominations. A post shared on the LSA Instagram handle on Wednesday stated, "The Lux Style Awards submissions are received from artists and channels as part of an open call for entries for consideration in the awards. All shortlisted nominations, for the Viewer's Choice Category of the LSA 2022 are a result of exclusive viewer voting without any intervention by the Awards."
It added, "As part of our third party, independent and transparent voting process, which is audited end to end by PricewaterhouseCoopers, LSA cannot participate in short-listing, vetting or excluding any submissions or nominations." In a follow-up statement, the LSAs declared they believe in "respecting the freedom and divert of audience views, and does not regulate or limit engagement (except in cases of content with obscene or inappropriate language) on our social media platforms."
The response arrived after Oscar-winning filmmaker Sharmeen Obaid-Chinoy announced that she would be returning her Lux Lifetime Achievement Award, which she received from the platform back in 2012, in protest.
Obaid Chinoy calls spade a spade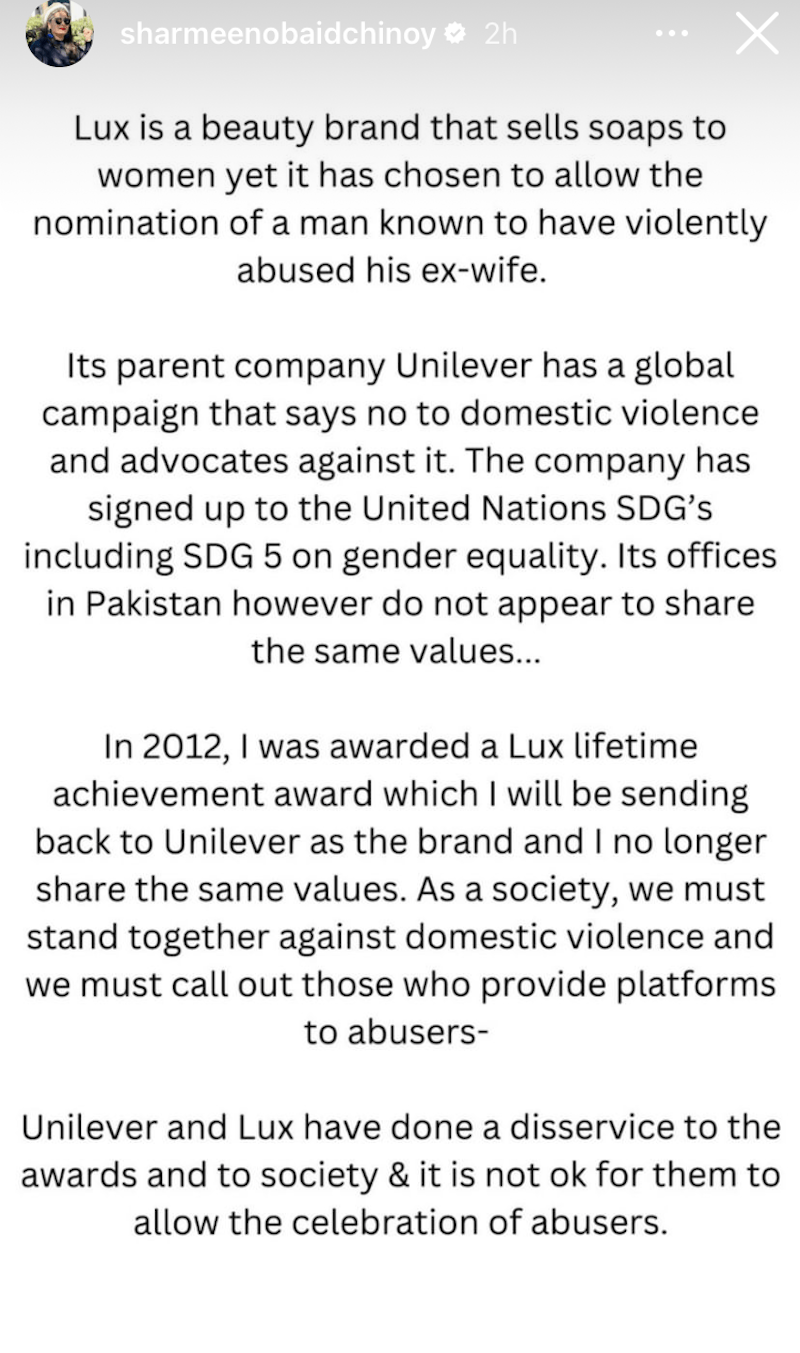 Taking to her Instagram Stories on same day, the Saving Face director pointed out, "Lux is a beauty brand that sells soaps to women yet it has chosen to allow the nomination of a man known to have violently abused his ex-wife. Its parent company, Unilever, has a global campaign that says no to domestic violence and advocates against it. The company signed up to the United Nation's SDGs, including SDG 5 on gender equality," she wrote, noting that Unilever's offices in Pakistan do not seem to share the same values."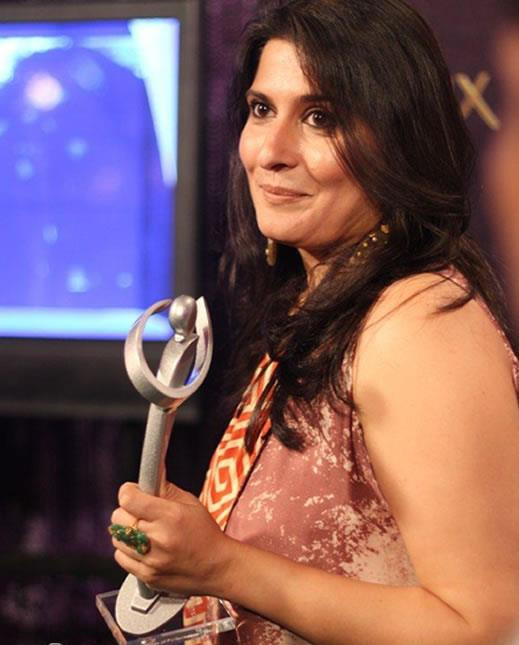 She then reminded everyone that in 2012, she was awarded a Lux Lifetime Achievement Award. "I will be sending [that] back to Unilever as the brand and I no longer share the same values," she declared. "As a society, we must stand together against domestic violence and we must call out those who provide platforms to abusers," added the filmmaker.
"Unilever and Lux have done a disservice to the awards and to society and it is not ok for them to allow the celebration of abusers," she concluded.
The Feroze Khan fiasco
Khan became a subject of controversy soon as photos of Sultan with bruises started circulating on social media late October along with her emergency room and MLO reports. They were among the documents her legal team submitted to a District East Family Court as well as a report from the Accident and Emergency Department at Jinnah Postgraduate Medical Centre documenting a complaint of assault in November 2020, mentioning "blunt injuries on both arms, [the] back, chest and face". A "minor nosebleed" was also recorded. The provisional diagnosis read that it was an "assault".
Many from the entertainment industry have since condemned the actor, his actions, and refused to work with him. Mariyam Nafees, Asim Azhar, Osman Khalid Butt, Mansha Pasha, Shae Gill, Ushna Shah, Minal and Aiman Khan and Usman Mukhtar expressed their disgust and disapproval of Khan's alleged doing. They also offered Sultan their condolences and extended their support to her. Khan's costar Iqra Aziz, even withdrew her participation from an upcoming project with him in a show of support for victims of domestic abuse.
Khan has since released a statement, denying all abuse allegations levied against him. Calling them "baseless, malicious and untruthful", he said as a believer of human rights, he has "never knowingly hurt another human being". The family court is hearing two cases — one filed by Khan for custody of their two children and another filed by Sultan for maintenance money for the children.
Have something to add to the story? Share it in the comments below.