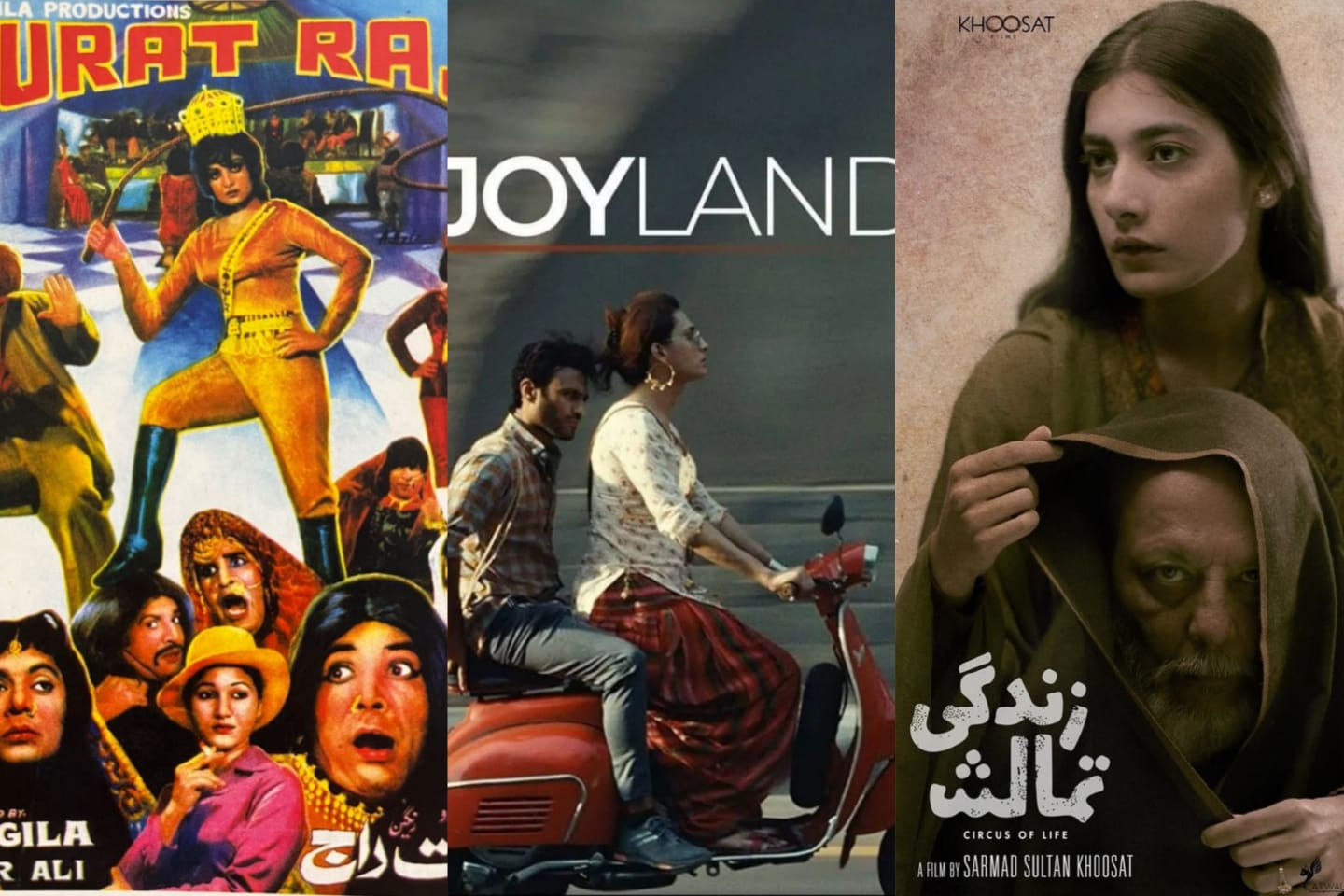 News of the award-winning film Joyland's release in Pakistan was almost too good to be true since the country has a record of banning films that fall outside the realm of its allowed genres for cinema – overdone romantic comedies and predictable action-thrillers. Historically speaking, the local cinema has largely been affected by censorship and political and social repression.
The minute any film decides to set its foot outside the set boundaries and explore more realistic themes that would make the audiences think, it either gets banned or is termed controversial for depicting a "false reality".
Yet, there are conversations on social media every now and then about how the content being produced is not up to par. But is all content produced even being released? The bans raise important questions about who is making these calls and whether they're even taking into account the masses' views about which films they want to watch.
The bans also make one wonder if a certificate by the censor board even holds any substance, since Joyland was cleared to release in Pakistan on November 18 but a week before its release, the Central Board of Film Censors (CBFC) revoked the censor certificate granted to the filmmaker months ago over written complaints received against it's "objectionable" content.
Courtesy of a Twitter user Javeria Naseem, here are some Pakistani films that have suffered a similar fate in Pakistan to really understand the gravity of the situation.
Jago Hua Savera (1959)
Directed by A J Kardar, Jago Hua Savera boasted a screenplay by Faiz Ahmed Faiz and told the story of East Pakistani fishermen and their struggles with loan sharks. Set in modern-day Bangladesh, the film was a joint production of East and West Pakistan at that time. However, just days before its premiere, it was stalled by General Ayub Khan.
Jibon Theke Neya (1970)
Zahir Raihan's political satire, a Bengali-language Pakistani film titled Jibon Theke Neya's (1970) release was repeatedly halted by the government. According to IMDb, the film portrayed the Bengali Language Movement of 1952 and was a tribute to the martyrs of the movement. The story presents a dominating image of a woman in a family consisting of her husband, two brothers and servants. It symbolised Ayub Khan's regime while representing 1969's mass uprising and the arrest of political workers.
Insan Aur Gadha (1973)
Insan Aur Gadha by Syed Kamal starring famous comedian Rangeela was a satirical take on human conditions in Pakistan. Rangeela played the human version of a donkey who had prayed to God to transform him into a human being. Weeks after its release, the film was banned by the Zulfikar Ali Bhutto government based on a scene that mocked the political leader's style of delivering speeches.
Aurat Raj (1979)
Not surprising at all, the first Pakistani feminist movie, produced and directed by Rangeela, was banned shortly after its release in Pakistan. Starring Rani, Waheed Murad and Sultan Rahi, the film explored reversed gender roles.
Maula Jatt (1979)
While we're celebrating the continued success of The Legend of Maula Jatt, the original Punjabi musical Maula Jatt, directed by Younis Malik, was banned shortly after its release due to its "excessive sexual content and violence". However, the producer was able to acquire a stay order. The film starring Sultan Rahi, Mustafa Qureshi and Aasia got a two-and-a-half-year run in cinemas and saw widespread commercial success.
The Blood of Hussain (1980)
Based on the life and death of the youngest son in a Pakistani family, Jamil Dehlavi's The Blood of Hussain was banned during Zia ul Haq's regime for depicting a fictional military coup in a less than favourable light.
Zar Gul (1997)
Directed by Salmaan Peerzada, Zar Gul was unable to obtain clearance from the government. According to IMDb, the film is about a young Pathan who becomes an outlaw, a hero to the poor, after his father is killed by a crooked politician.
Khamosh Pani (2003)
Banned primarily because it starred Indian actors, Sabiha Sumar's Khamosh Pani, also known as Silent Waters, was based on a Southern Punjabi family affected by the increasing religious radicalisation under the regime of Zia ul Haq. It stars Bollywood's Kirron Kher, Aamir Ali Malik, Indian choreographer Navtej Singh Johar and more.
Slackistan (2010)
Directed by Hammad Khan, Slackistan was an independent film based on a young man juggling his personal and professional life while living in Pakistan during political turmoil. The CBFC banned the film for swear words in both English and Urdu.
Maalik (2016)
Ashir Azeem's political thriller Maalik, staring Farhan Ally Agha, Adnan Shah Tipu, Hassan Niazi, Sajid Hasan and more, was banned nearly eight days before its released by the Sindh censor board and Sindh government. However, in September 2016, the ban was lifted by the Lahore High Court and the film was permitted to play on limited screens.
Among the Believers (2016)
Among the Believers, a documentary directed by Hemal Trivedi and Mohammed Ali Naqvi, was banned by the CBFC for "dialogues which projects (sic) the negative image of Pakistan in the context of ongoing fighting against extremism and terrorism."
Besieged in Quetta (2016)
Another documentary banned the same year was Asef Ali Muhammed's Besieged in Quetta. The CBFC issued a statement similar to the one it had provided for Naqvi's documentary, saying that it portrays a "negative image of Pakistan". The documentary is about the plight of Quetta's Hazara community.
Verna (2017)
Directed by Shoaib Mansoor, Verna stars Mahira Khan, Haroon Shahid, Rasheed Naz, Naimal Khawar and Zarrar Khan. It was banned by the CBFC who stated, "The general plot of the movie revolves around rape, which we consider to be unacceptable." After the board was heavily criticised for its decision, the film released without any censors in November 2017.
Durj (2019)
Written and directed by Shamoon Abbasi, the mystery film Durj is based on true events, revolving around cannibalism. The film was banned by the CBFC as they cited it being "inappropriate" for public viewing, however, it did release three years ago.
Zindagi Tamasha (2019)
Directed by Sarmad Khoosat, Zindagi Tamasha shows an intimate portrait of a family who lives in Lahore including a man who writes, composes, and even records religious hymns. But one day, he attends a close family function where he inadvertently shows off a dance in front of his friends which makes it to social media and chaos begins for him and his family. The release of the film was suspended after Tehreek-i-Labbaik Pakistan (TLP) announced protests against the film. Khoosat was also accused of blasphemy.
Javed Iqbal: The Untold Story Of A Serial Killer (2022)
Abu Aleeha's film Javed Iqbal: The Untold Story of a Serial Killer is based on the investigation into Javed Iqbal, the serial killer who killed 100 young boys in Lahore and sent evidence of his crimes to the authorities and media in 1999. It was banned by the Punjab government and since then there has been no update on the film's release. The film stars Yasir Hussain and Ayesha Omar.
I'll Meet You There (2022)
Pakistan-American filmmaker Iram Parveen Bilal's I'll Meet You There was rejected by the CBFC a week before its release in Pakistan. The board said the film "does not reflect true Pakistani culture, portrays a negative image of Muslims" and is against the "social and cultural values of Pakistan."
Joyland (2022)
The most recent victim of unconstitutional censorship is Sadiq's film Joyland, which made news for winning the Jury Prize in the Un Certain Regard segment at the Cannes Film Festival. CBFC claimed that the "film contains highly objectionable material which does not conform with the social values and moral standards of our society and is clearly repugnant to the norms of 'decency and morality; as laid down in Section 9 of the Motion Picture Ordinance, 1979."