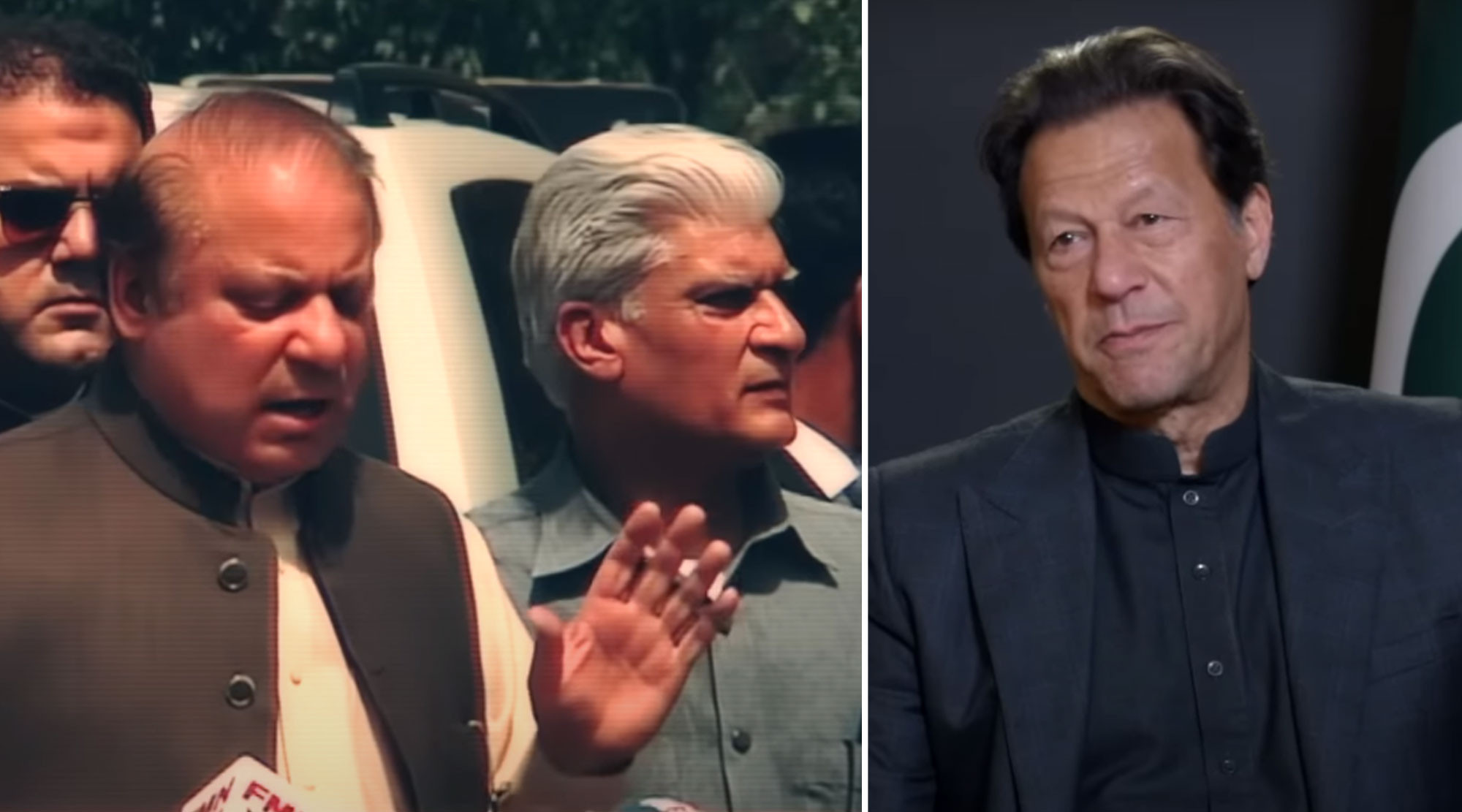 On Monday, a trailer of a documentary, Behind Closed Doors, about corruption in different countries made rounds on Twitter. The aforementioned short, directed by Michael Oswald, and produced and written by Murtaza Mehdi, included infamous cases from Kenya, Azerbaijan and as well as Pakistan.
Shared on the award-winning YouTube channel, Independent POV, the two-minute clip highlights how rules have been discriminated against elites and those who aren't as privileged. In the said documentary, Pakistan's Sharif family also gets a mention as we see several PTI leaders, including former premier Imran Khan talking about the cases Sharifs have been embroiled in.
The trailer begins with Kenyan journalist John-Allan Namu saying, "How it has been described is that there has been one rule for the elite, especially the elite that is connected to power and other for everybody else, I think I will leave it at that."
We then see journalist Arshad Sharif say, "Accounts were opened in the name of these low-level low-wage employees who do not come into the tax net. Money used to be deposited in those accounts and finally, they used to land in the accounts of either Mr Hamza Shahbaz, Mr Salman Shahbaz or Mr Shehbaz Sharif himself. They said people used to come with gunmen into the banks."
PTI leaders took to social media and shared the trailer, adding how Sharifs have made it to the 'international scale'.
Sayed Zulfi Bukhari, Fawad Chaudhry, Shireen Mazari, Taimur Khan Jhagra and Muhammad Basharat Raja among others took to Twitter to share the trailer. In his tweet, Jhagra claimed that the documentary is coming soon to either Netflix or Amazon Prime. "The truth is out there. In Pakistan, sadly it just seems to lead back the same people to corridors of power, again and again," he wrote.
Behind Closed Doors.
A film about corruption. Coming soon to Netflix / Amazon Prime. The truth is out there. In Pakistan, sadly it just seems to lead back the same people to corridors of power, again and again. pic.twitter.com/HdVvGNuBS1

— Taimur Khan Jhagra (@Jhagra) October 18, 2022
Mazari, too, claimed that the said documentary will air on Netflix or Amazon Prime. "A must-watch documentary on corruption very relevant as Sharifs also feature in it. Soon on Netflix and Amazon," she tweeted. Netflix or Amazon Prime is yet to confirm whether Behind Closed Doors will be picked up by either streaming giant.
"Can't wait for this much-awaited documentary about the corruption of the elite. Congratulations Shareef family you have successfully made the cut!" said Bukhari.
About Behind Closed Doors
According to the synopsis of Behind Closed Door, "It is a film about corruption in high places and those who enable it."
The statement further read, "Politically Exposed Persons (PEPs) are people who hold a public function and as a result, present higher risks of being involved in bribery or corruption. Offshore leaks have revealed repeatedly that PEPs use British finance and British offshore jurisdictions to launder their wealth, hide their wealth and re-invest it into the global financial system. London is the place where they buy property, where they take legal action against their critics and where they live when they fall from grace."
It concludes with, "But what happens when a developing country fights back and attempts to get Britain to return the money that it claims has been stolen?"
Have something to add to the story? Share it in the comments below.