PUBLISHED
October 16, 2022


PAKISTAN:

Cinema 73 hosted a pop-up exhibit, "GARMI" on the 3rd of September with seven artists, that mostly consisted of current art students. The project took on an ambitious goal to uncover the issues pertaining to the changing climate change and its effects – in particular, the rising temperature in Karachi. The space that held these pieces was previously an unused garage located in one of the Seaview apartments by Clifton beach. The brains behind Cinema 73 and the exhibit, Asad Kamran, envisions a baithak of sorts where art and ideas can be freely exchanged while actively occupying public space. It inspires "a conversation with Karachi" as Asad would call it.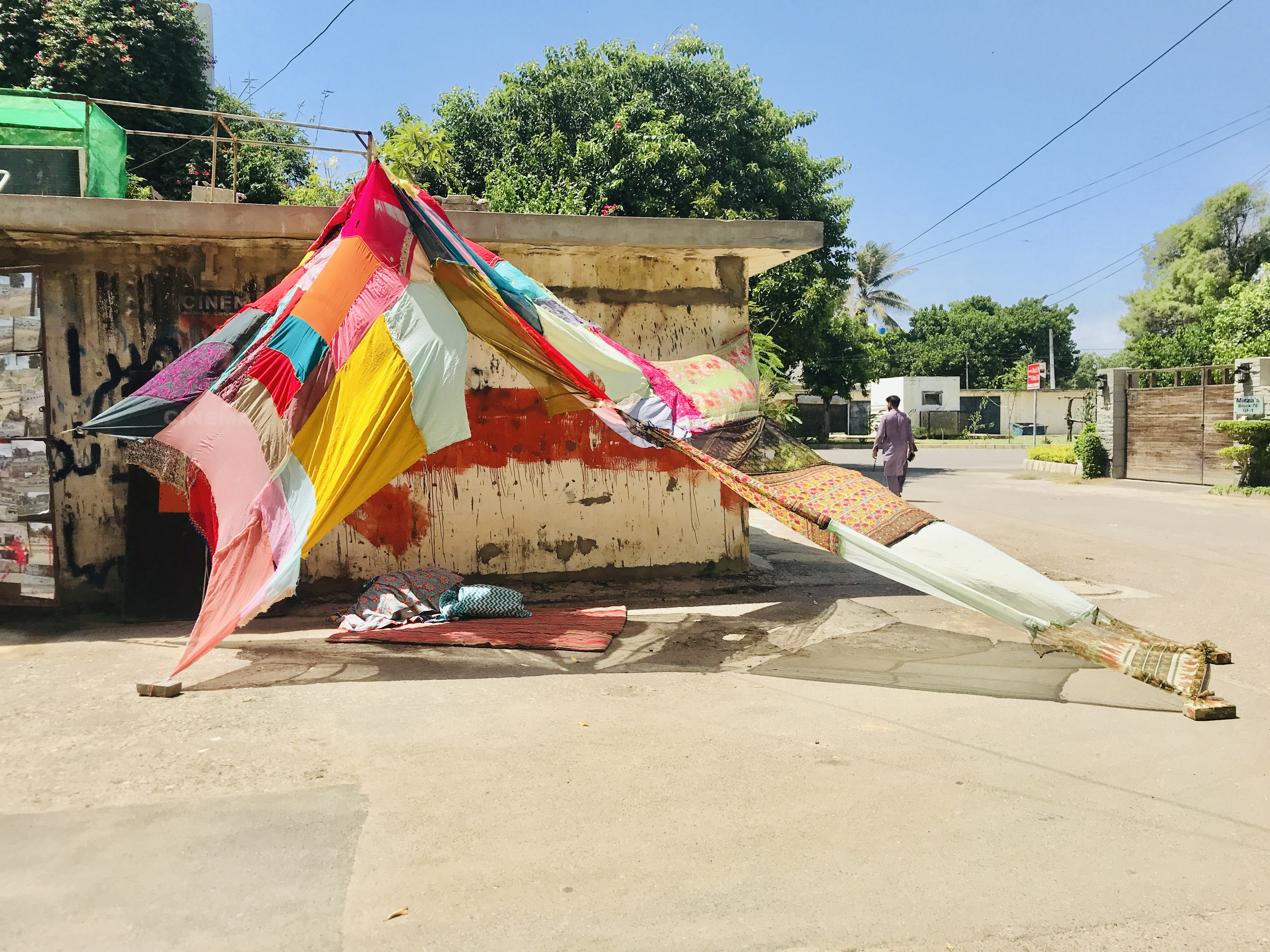 From the seven artists of the exhibit, Ahwar Nasir's piece stands out. It directly tackles the present-day effects of climate change in Pakistan, thereby being the recent flooding and rising temperatures. Her piece specifies her village, Chak in Shikarpur as the context of her artwork. Using a makeshift tent with traditional Sindhi chaddar, Ahwar mirrors uprooted flood-victims in relief camps. She highlights indigenous wisdom of curbing the rising heat, that sees higher temperatures than the urban city of Karachi. Some of these methods are drinking a glass of lassi with chaaj, hanging wet chaddar over doors for a cool flowing of air, special tent over one's bedside in a sehan, and serving food in two steel taals, with the taal serving food placed directly on top of another that only contains ice. Her piece also incorporates performative elements such as a lament to the climate crisis in the form of a poem written with her mother.
Bilal Ahmed's sculptures speak of the nature of fragility in relation to heat. He projects this through everyday objects that are easily affected by temperature such as polythene bags and hot bottles. By casting them in concrete, the sculptures, being metaphysical portraits of global warming cause a strange reaction in the viewer who feels she has avenged climate change, itself with the temporal objects suspended in space and time.
Anita Zehra interacts with trees in the streets of Mochi Mor in Gulshan-e-Iqbal Town via video art. Conversing with a friend from the other side of the border, Anita witnesses trees as utilities and compares their complex ecosystems— whether they be in an overcrowded city such as Karachi or in their more 'natural' habitat like Kerala.
Inshaal Tahir's performative art piece comments on this year's politized rhetoric on chai, economic loss and imports. She also furthers the connection of gender roles with tea.
Luluwa Lokhandwala's surveys what is famously known as Old Karachi and takes inspiration from public art, graffiti and 'Baba Jee' flyers distributed in public transport that promise to help with marital affairs and one's position in life.
Amna Qamar took a more metaphysical approach to the climate, and wondered, if heat could talk, what would it say? "Jal rahi hai zameen, Kashh icecream hoti" are some of the phrases that were heard from her sound installation art.
Muqeet Amir who works as an air quality modeling engineer used a dataset called TerraClimate to create an innovative and engaging piece where a bot talks to you, as Muqeet drones over the screen via Zoom. The bot takes the information of your birth to tell you all the various catastrophes that have occurred from your birth to the current-day. The data is frightening and really frames the climate crisis successfully.
Cinema 73 is an independent community space that hosts screenings and art shows. They can be found on Instagram: @cinema.73
Zehra Jabeen Shah is a freelance writer as well as a Karachi-based poet and oral historian. Her social handle is @zehrajabeenshah. All information and facts provided are the sole responsibility of the writer.