A 14-min prologue of Danial K Afzal's upcoming web series, based on the life of Fatima Jinnah, is out. The series titled Fatima Jinnah: Sister | Revolutionist | Stateswoman, divides her life into three eras, with respect to major turning points in her life, and stars Sundus Farhan, Sajal Aly, and Samiya Mumtaz in each era respectively. The prologue presents the altercations and dilemmas faced by Jinnah at these times, ahead of the period drama's release.
1929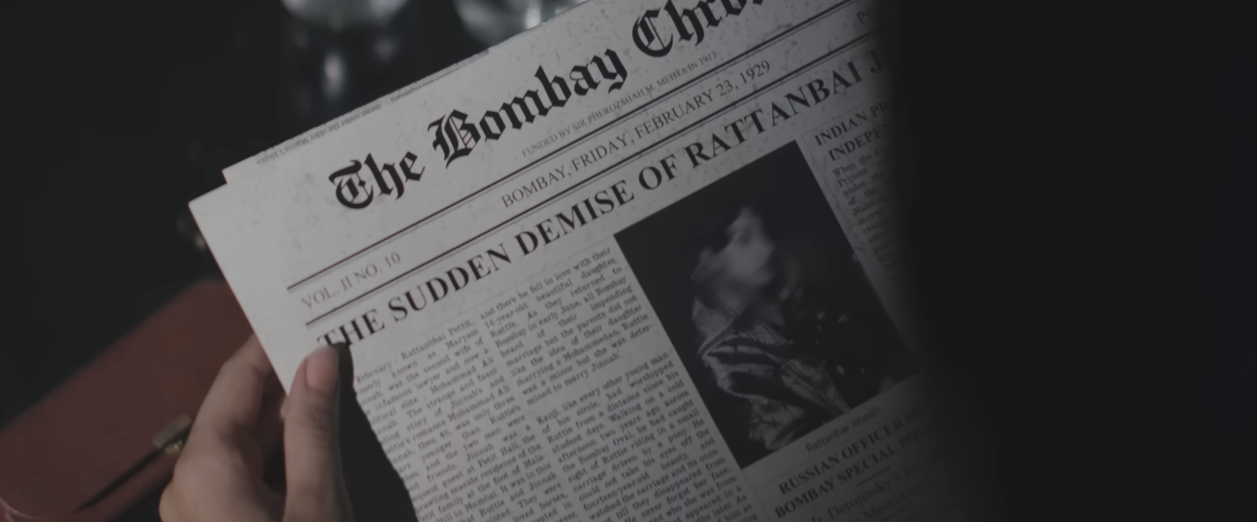 It takes off at the clinic of Jinnah. We see Sundus embodying Fatima Jinnah in her 30s, draped in a saree and seemingly taking on and simultaneously letting go of some responsibilities. The politician, who had obtained a dental degree from the University of Calcutta in 1923, was the first female dentist of undivided India. At her clinic in the Bombay presidency under the British Raj, she picks up The Bombay Chronicle and disappointingly looks at the cover page, which announces the sudden and tragic demise of Rattanbai Jinnah, also known as Ruttie Jinnah, the first wife of her brother and politician Muhammad Ali Jinnah.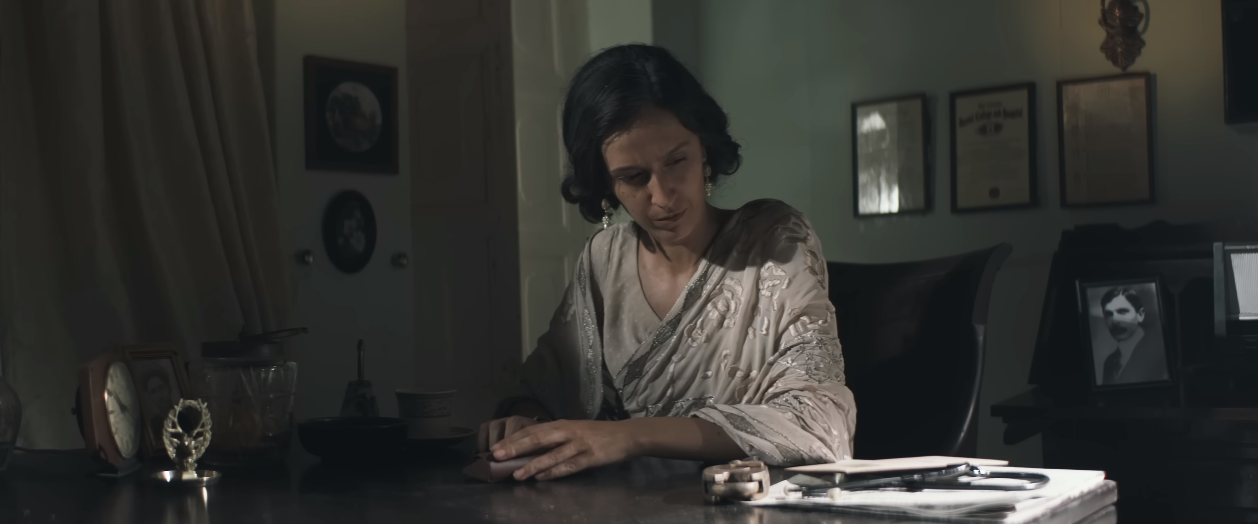 Speaking to her subordinate, Joseph, who is heard urging her to think twice about some undisclosed matter, she inquiries about a caretaker she had requested for Dina, since her mother is no longer alive. She holds on to a notice of cessation, which informs, "This letter hereby serves as a discontinuation notice for the practice of dentistry undertaken by Dr Fatima Jinnah at the address mentioned forthwith." In the meanwhile, an announcement is vaguely heard on the radio that informs about a poet who has demanded "complete independence from the British."
1947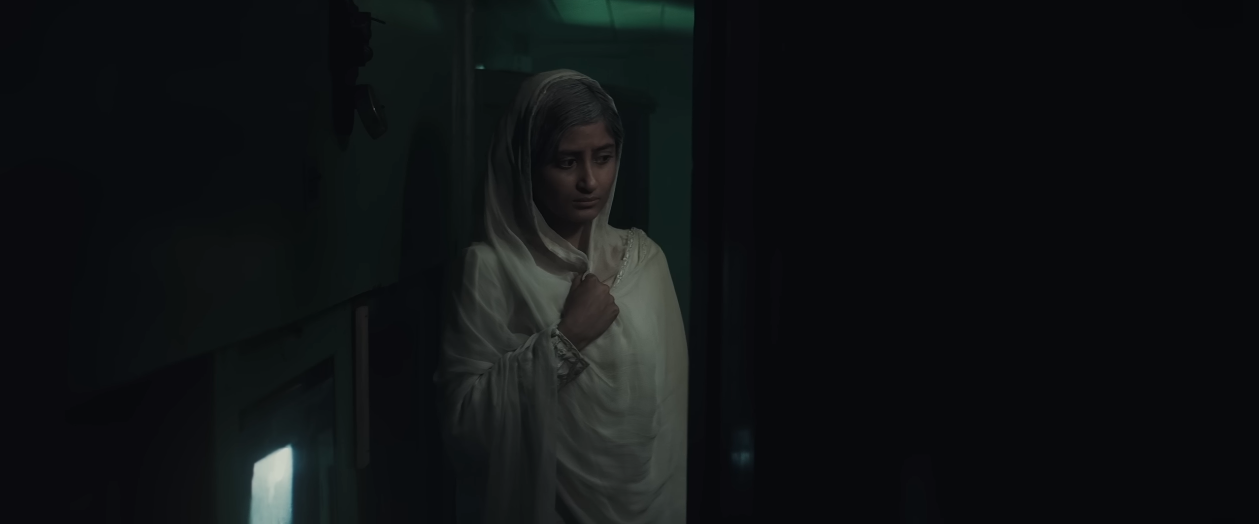 The prologue time-travels us to 1947 at the Northwest Railway Junction in Lahore, where a train set to take passengers to Pakistan has been attacked. Uncertainty looms as the promise of an independent state is fulfilled and Fatima Jinnah, now in her 50s (played by Sajal Aly), steps onto the scene of crime. An informant is heard alarming someone on the phone, "Call for Lord Mountbatten, a train to Lahore was compromised. I repeat, a refugee train to Lahore was attacked." Jinnah stands shook inside the train cabin, surrounded by bodies. Dananeer, who plays an Indian girl Aneeta, also a subordinate to Jinnah, stands alongside her, devastated by the vision.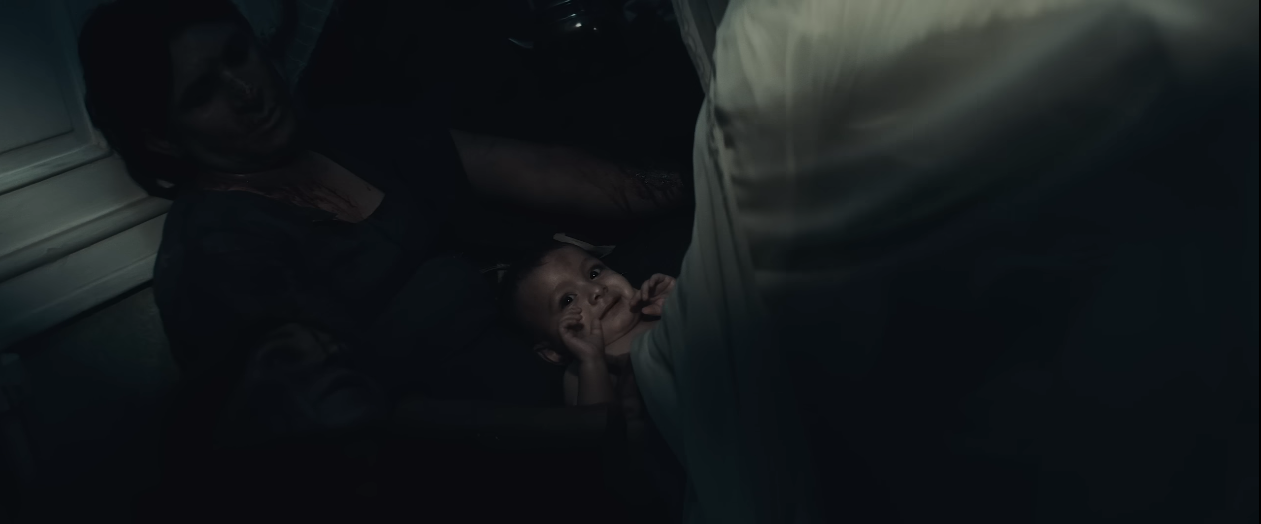 The train floor presents a scene of war. Jinnah moves towards a body holding a Quran, she picks it up, only to be taken aback by the sound of a crying baby. As she moves towards the sound and discovers yet another train cabin filled with bodies. The baby lies atop its dead mother, devastated and waiting to be rescued. Jinnah takes the child and is once again, interrupted by the sound of something breaking.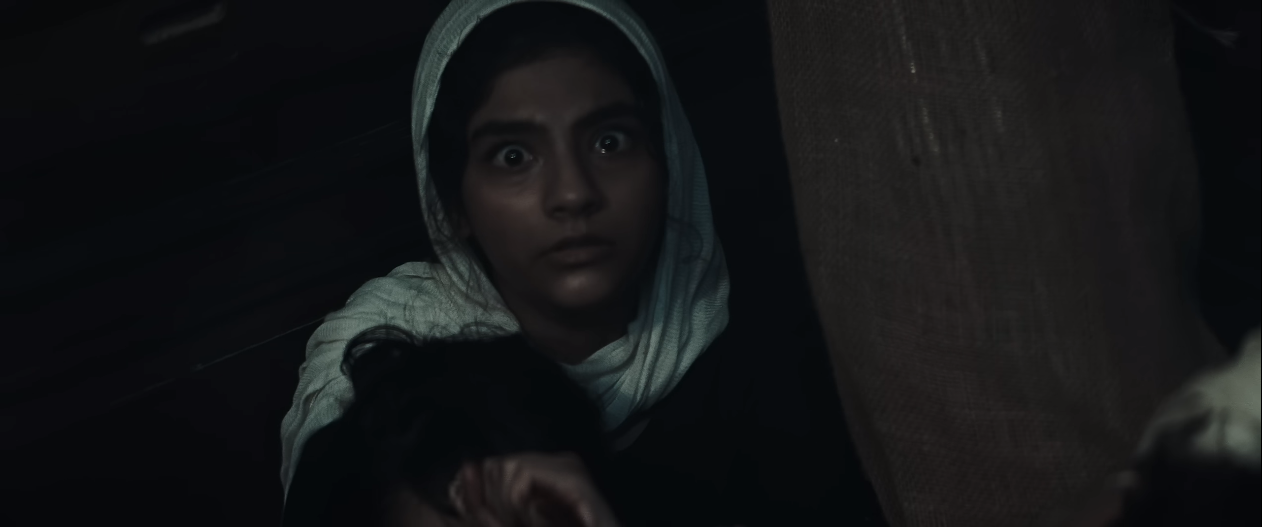 Joseph, who's been accompanying her this time whole time, goes to see what has happened. He discovers a girl with her eyes wide open, crumpled under the bodies of her family and fellow cabin members. Traumatised, she begins to scream for her life. Jinnah tears up by the sound and comes to the scene but the girl does not stop. Her fear and devastation echo through the train. Joseph joins in her screaming and begins to cry, unable to comprehend what has transpired. Jinnah stands ahead of him, numbed from the pain of having to collect the remains of the price she had pay for an independent state.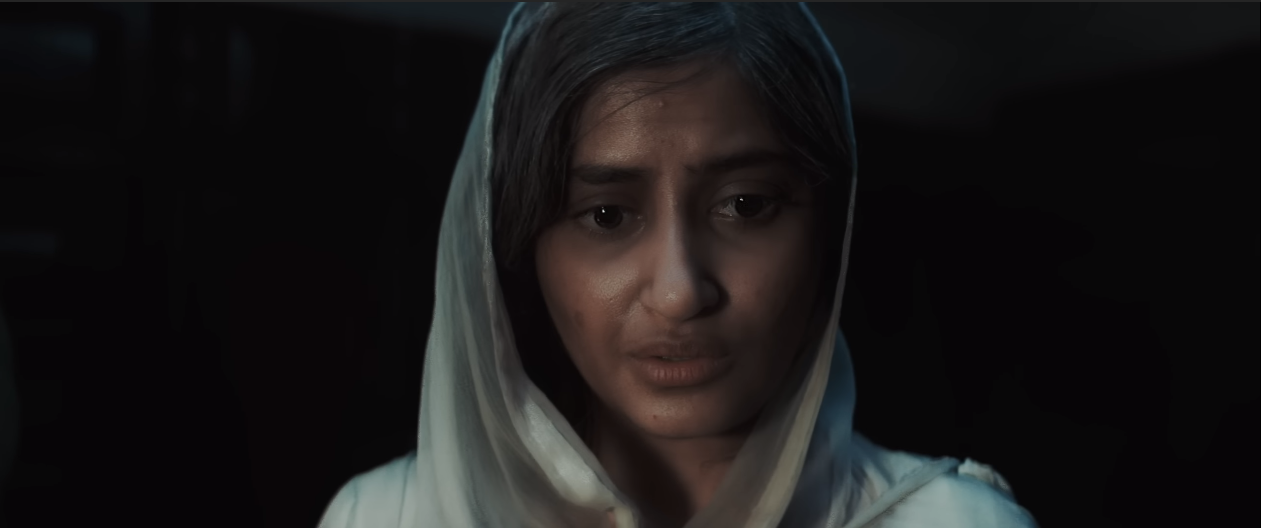 The gore isn't glamorized and the forced migration is shown for what it was and what it led up to, a mass massacre. The bodies represent no sacrifice. It is evident that all the passengers were caught off-guard and didn't anticipate losing their lives for a state they had yet to see. The very passengers that abandoned their ancestral homes and livelihoods for an overnight move. Radio Hindustan Delhi announces, "Aaj, Hindustan men, Angrez sarkaar ke 200 saal ka khaatma hua. Lord Mountbatten ne Viceroy ka khitab chordiya. Aur Mr Jinnah Pakistan ki taraf rawaana horahay hain."
1965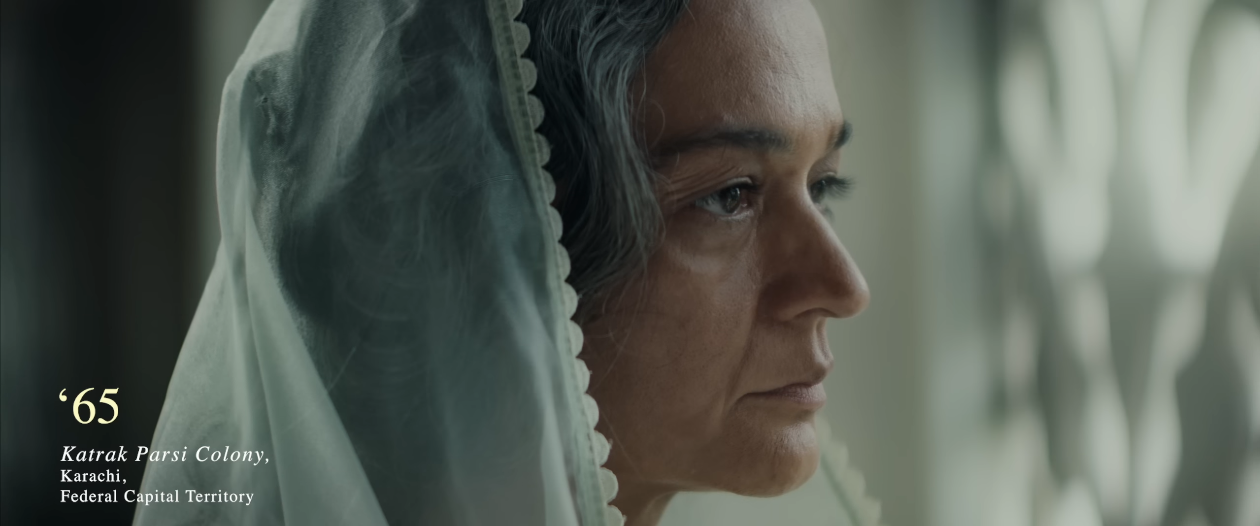 The scenes move to Katrak Parsi Colony Karachi, which was Pakistan's then Federal Capital. Azaan is heard as Jinnah, (now played by Samiya Mumtaz), stands silently observing. An announcement is heard, "Fatima Jinnah has decided to make her return to politics." Jinnah is seen moving out of her house, set to address the public after being convinced by her associates, of whom is Joseph, who doesn't leave her side even as she grows old and is pushed to the corner.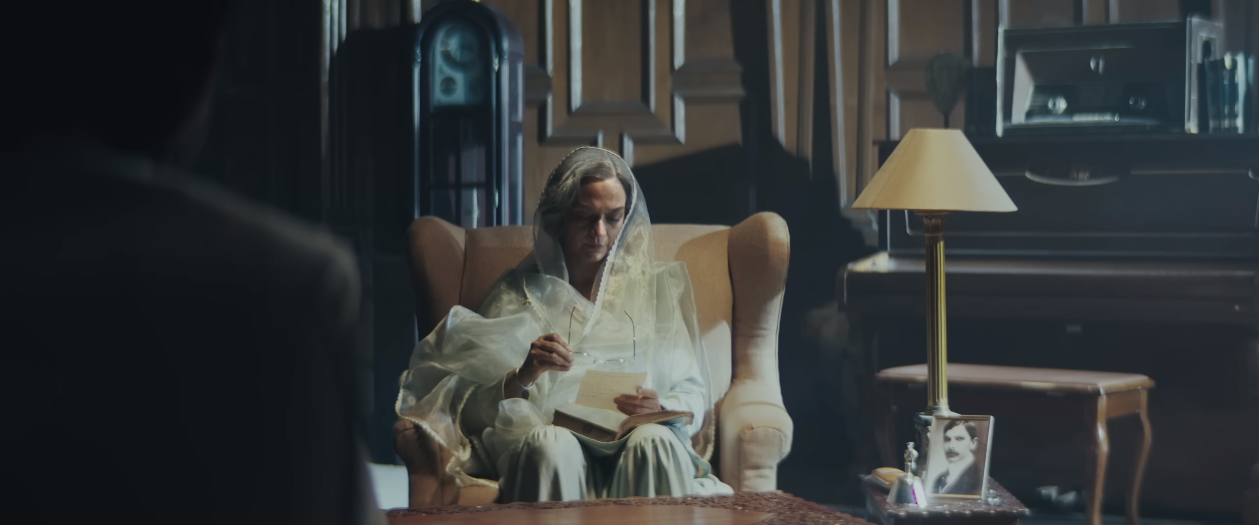 Post-independence, Jinnah had co-founded the Pakistan Women's Association, which played an integral role in the settlement of the women migrants in Pakistan. She remained the closest confidant of her brother until his death. And was banned from addressing the nation until 1951. Her 1951 radio address to the nation was heavily censored by the Liaquat administration and she wrote a book My Brother, in 1955 which did not publish until 32 years later due to censorship by the establishment, which accused her of "anti-nationalism". Even when published, several pages from the book's manuscript were left out.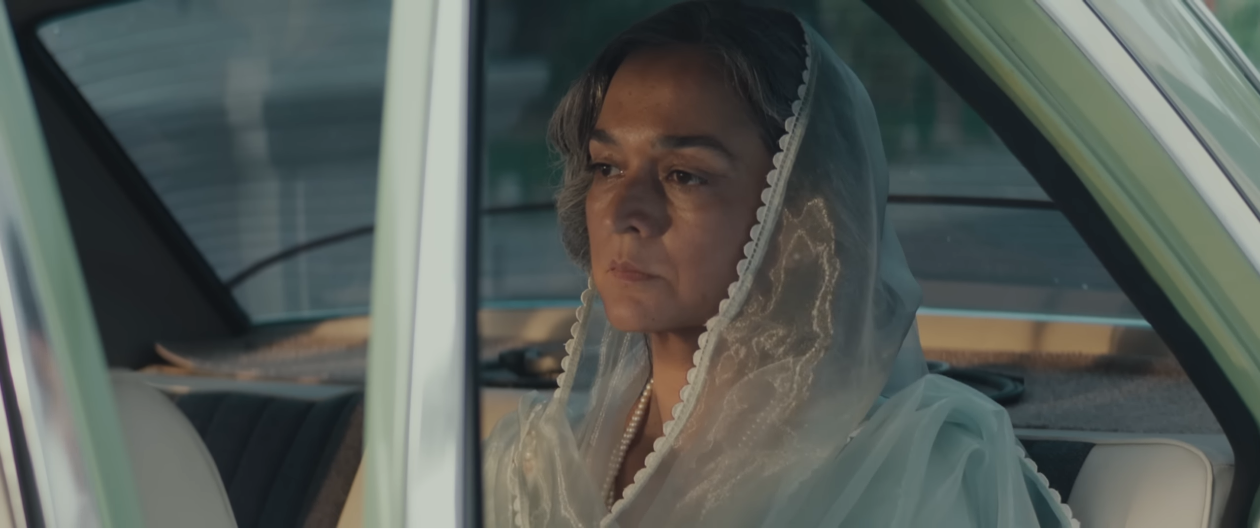 Jinnah came out of her self-imposed political retirement in 1965 to participate in the presidential election against military dictator Ayub Khan. She was backed by a consortium of political parties, and despite political rigging by the military, won two of Pakistan's largest cities, Karachi and Dhaka. Time, while reporting on the 1965 election campaign, wrote that Jinnah faced attacks on her modesty and patriotism by Ayub Khan and his allies.
Watch the prologue here:
Have something to add to the story? Share it in the comments below.